Indulge yourself this spring – not only are you going on holiday to Ireland in 2019, but we'll also gift you a €100 Wild & Blue voucher to shop for a bit of post-Christmas gifts!
Here's to new and exciting adventures!
---
What is our Happy New Adventures promotion?
This New Year, every traveller who books a trip during the promotional period will receive a €100 voucher to Wild & Blue, a clothing brand created by the teams behind Wilderness Scotland & Wilderness Ireland. Celebrate a new year and new adventures with a holiday – and a bit of shopping!
What is Wild & Blue?
Wild & Blue is an everyday clothing brand designed by Wilderness Scotland & Wilderness Ireland to showcase the adventures and great outdoors that we love. Wild & Blue clothing are made from 100% organic cotton that has been verified by the Fair Wear Foundation as guaranteeing a living wage as well as safe and fair working conditions. They are produced using only wind power, they are climate neutral and all of the packaging is recyclable – not something we see often enough!
Take a look at Wild & Blue's collection to start shopping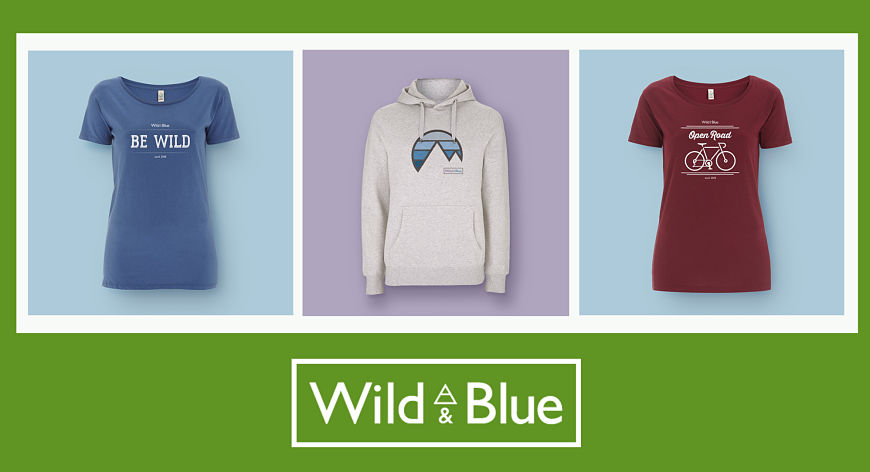 Find Your 2019 Adventure Below!
Browse by Location:
Browse by type:
Trip Grading – How can I choose the trip that's best for me?
We have created a series of videos to help explain our trip grading so that you can find the perfect adventure for you! See our videos here to help you choose which 2019 adventure suits you best.
Are you looking for an off-the-beaten-track hiking trip in the wilds of Connemara and Mayo? Cyclists who search for perfect – and challenging! – cycling country will love biking the Wild Atlantic Way. Our new gentle hiking trip explores the backcountry of the Wicklow Mountains and includes a night in Dublin. Looking for a gentle, laid-back cycling trip? Combine cycling and yoga in Sligo! Or perhaps the Cliffs of Moher are your dream – hike Connemara to the Cliffs of Moher for a brilliant combination of landscapes.
Glance over a few of our customer reviews left by previous Wilderness Ireland adventurers!
Our 100% Satisfaction Guarantee Applies
We believe so strongly that you can have a world class experience in Ireland that we want you to rest assured that you've found and chosen to travel with a tour operator that cares about the details, so you don't have to. This philosophy has lead to the creation of our 100% Satisfaction Guarantee so you can rest easy knowing that your tour to Ireland will be the trip of a lifetime.
Read more about our 100% Satisfaction Guarantee.
Talk to us!
Have questions about trips, locations, accommodations or difficulty levels? Want to know more? Or simply want to chat? Feel free to send us an email at [email protected], or call our offices (open 9-5.30 GMT) at +353 (0) 91 457 898. If you're calling from North America, feel free to calls us at: 1-844-235-6240. For more information, see our Contact Us page.
Same Promo, Different Country

See here for terms and conditions.